A compelling portrait (a single image) that captures an aspect of a candidate or sitting politician's character.
First Place
Brooks Kraft, TIME Magazine
Rain Storm:
U.S. President Barack Obama speaks in the rain during a campaign rally in Glen Allen, Virginia.
Second Place
Window:
Staff members reflected in the widow on the room where Republican presidential nominee Mitt Romney works before a campaign rally in North Canton, Ohio October 26, 2012.
Third Place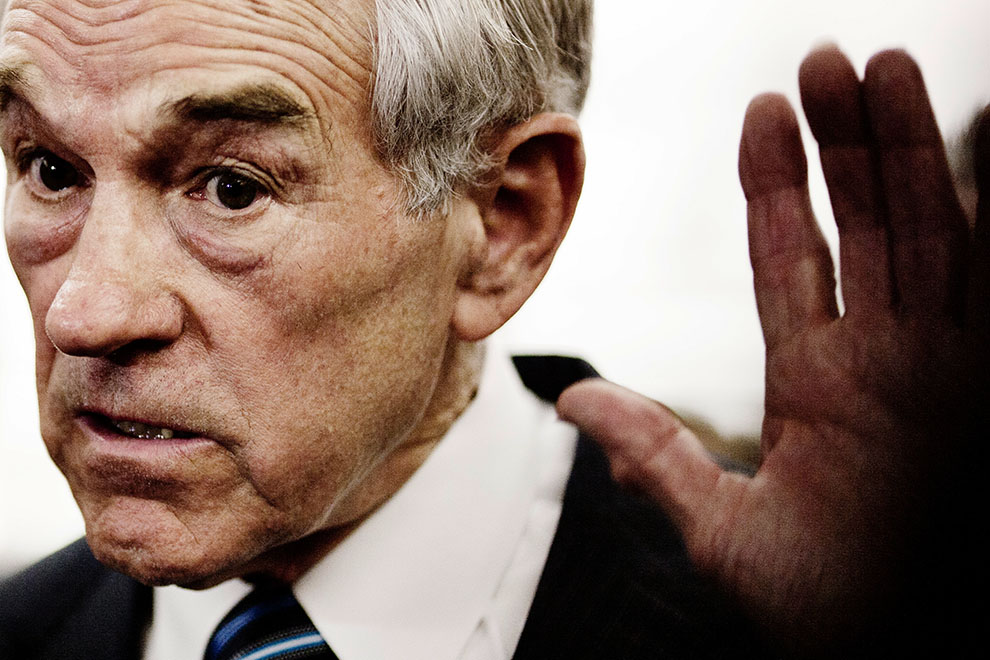 Melissa Golden, Freelance for Redux Pictures
Ron Face:
Ron Paul campaigns in Des Moines, IA on Wednesday, December 28, 2011.
Award of Excellence
Marine One:
U.S. President Barack Obama and the Marine One land on the South Lawn of the White House as he returns from the final presidential debate and campaign events in Florida and Ohio.
Award of Excellence
Andrew Harnik, The Washington Times
Fist of Support:
A war veteran sitting on stage behind Republican presidential candidate Ron Paul raises a fist of support as Paul delivers a speech highlighting veterans. Paul, while not at the top of the polls, continues to attract a large and passionate group of Libertarian supporters.
Award of Excellence
Charles Dharapak, Associated Press
Quiet Moment:
Republican presidential candidate Mitt Romney gathers his thoughts as he sits in a training room as waits for the start of a campaign rally at Koehler Athletic Complex, University of Findlay, Sunday, Oct. 28, 2012, in Findlay, Ohio.
Award of Excellence
Gregory Bull, Associated Press
Callista Gingrich:
Callista Gingrich, wife of Republican presidential candidate, former House Speaker Newt Gingrich waits for her turn to address a group of Republican supporters at a local restaurant, Tuesday, Feb. 14, 2012, in San Diego.