A compelling portrait that captures an aspect of the subject's character.
First Place
Mary F. Calvert, Independent
Prisoners of War: Male-on-male Rape in America's Military:
Ethan Hanson struggles through a bath at home in Austin, MN. He finds himself unable to take showers because of the sexual hazing he experienced while in the U.S. Marine Corps. During boot camp, Ethan and his fellow recruits were punished by their drill instructor for talking and laughing in the shower. "Well, prior to this incident, I would take showers. I found them to be most efficient. When I do come into contact with steam, hot water anything that makes my skin slippery, it's back to being in that shower again. I'm feeling my genitals on other people, which honestly makes me want to vomit up every bit of bile I have, feeling other people's genitals on myself. I don't blame those who had their genitals on me. In fact, I love those guys because they went through such a hard time with me," he said. The progression of Military Sexual Trauma is evident in this photo taken two years after the previous picture.
Second Place
Gabriella Demczuk, Freelance for The New York Times Magazine
John Brennan:
John Brennan, Former Director of the Central Intelligence Agency under President Barack Obama, at Fordham University's School of Law, in New York, N.Y. on April 24, 2018. Brennan has been an outspoken opponent to President Donald Trump which resulted in the removal of his security clearance.
Third Place
Salwan Georges, The Washington Post
Pittsburgh:
Gene Tabachnick a friend of brothers David Rosenthal and Cecil Rosenthal who were killed at the mass shooting at the Tree of Life Synagogue stands near the graves as he participates in Kevurah, traditional jewish burial at the Tree of Life Memorial Park cemetery on Tuesday, October 30, 2018, in Pittsburgh, PA.
Award of Excellence
Salwan Georges, The Washington Post
Seth Meyers:
NBC's Late Night host Seth Meyers is photographed back stage before going on air on Wednesday, May 2, 2018, at 30 Rockefeller Plaza, in New York City, NY. There's times where despite our best efforts we can't find a good enough joke to keep an important part of the news story in," said Meyers. "Whereas journalists keep it in because it doesn't require a joke, we're apt to drop it because our ego doesn't want to live through silence. So that's why people should read the newspaper."
Award of Excellence
Jabin Botsford, The Washington Post
Kush:
Senior advisor Jared Kushner listens as President Donald J. Trump speaks during a Cabinet meeting in the Cabinet Room of the White House on Thursday, Aug 16, 2018 in Washington, DC.
Award of Excellence
Andre Chung, Freelance for The Washington Post
Barry Jenkins:
WASHINGTON, DC - OCTOBER 26: Barry Jenkins, director of the Academy Award winning film, Moonlight, has released his new movie, If Beale Street Could Talk, which builds on the director's vision of a redefined African American aesthetic, identity, expression and power.
Award of Excellence
David Hume Kennerly, Independent
Remembering Robert Kennedy:
Ethel Kennedy at the gravesite of her husband Sen. Robert F. Kennedy at Arlington National Cemetery on the 50th Anniversary of his death. Kennedy was shot by Sirhan Sirhan at the Ambassador Hotel in Los Angeles June 5, 1968, and died the next day.
Award of Excellence
Erin Schaff, Freelance for The New York Times
Judge:
Judge Brett Kavanaugh, President Donald Trump's nominee for the Supreme Court, adjusts his tie while he waits to meet with Sen. Richard Shelby (R-AL) on Capitol Hill in Washington, DC on July 30, 2018.
Award of Excellence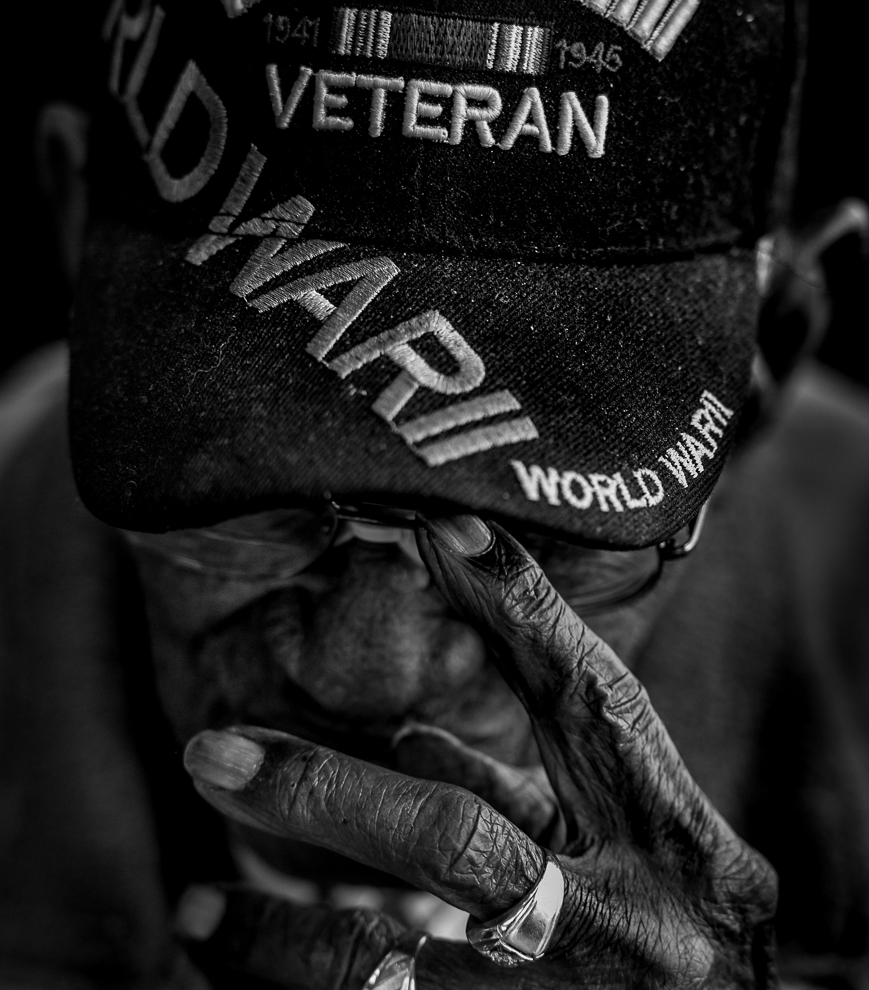 Jahi Chikwendiu, The Washington Post
Centenarian:
Mr. Richard Overton, 112-years-old, the 3rd oldest man on the planet, the oldest male in the United States, and the oldest military veteran, visits the National Museum of African American History and Culture - NMAAHC - on Sunday, April 8, 2018, in Washington, DC. Overton, who wants it to be known that he is also recognized as the country's oldest cigar smoker, was granted his dream of visiting the museum in advance of his upcoming birthday. Born on May 11, 1906, in St. Mary's Colony, Bastrop County, Texas, Overton is the grandson of a Tennessee slave who moved to Texas upon emancipation.
Award of Excellence
Saul Loeb, Agence France-Presse
Walk Like an Egyptian:
US First Lady Melania Trump tours the Egyptian pyramids in Giza, Egypt, October 6, 2018, the final stop on her 4-country tour through Africa.