A picture of a spot news, general news or issue reporting event.
First Place
Salwan Georges, The Washington Post
Untitles:
Family members and friends gather around the body of 15-year-old Imad Khaled Hashash who was shot dead in the head while on the roof of his home by Israeli forces during a nigh raid to make an arrest of a suspect, as it is brought to the mosque for a prayer in Balata refugee camp near the city of Nablus, West Bank, Tuesday, August 24, 2021.
Second Place
MIGRANT CHILD:
Asylum-seeking migrants make daily journey to cross the Rio Grande River at the border with Mexico in Roma TX on Thursday May 6, 2021. A surge has been overwhelming U.S. facilities at the southern borders. They had heard bringing children under 7 years old could ensure they would stay.

Flashlights appear in the of darkness near midnight on a riverbank in Roma Texas and the first sound that breaks the stillness is usually a baby crying. Then the inflation of a rubber raft that soon carries a slice of desperate humanity, women and children mostly, across the Rio Grande from Mexico to their American Dream.

After an arduous journey from Central American countries, some weep or pray but there is mostly a blanket of deep weariness. The refugee crisis in America is a divisive political football putting the new Biden administration in a quandary, but for these families it is simply the eternal quest for a better life.
Third Place
Brendan Smialowski, Agence France-Presse
Untitles:
Bogdan Gaicki sits where his house once was as he surveys tornado damage after extreme weather hit the region December 12, 2021, in Mayfield, Kentucky.
Award of Excellence
VIGILANTE JUSTICE:
The body of a gang member burns as local vigilantes serve up brutal mob justice in a land where no real laws exist after a massive earthquake as Haitians cope with the aftermath in Maniche, Haiti on Wednesday August 18, 2021. Desperately needed aid had been hampered by gang wars until a truce was declared to allow convoys to pass

Gangs have been terrorizing the local population. Killings, theft and kidnappings are rampant. On good days, life is desperately hard in Haiti. Tragedy befalls the country repeatedly - political anarchy, gang violence and natural disasters. Yet it remains a land of juxtapositions – breathtaking beauty of spirit and a brutal reality of the streets.
Award of Excellence
Julio Cortez, Associated Press
Migrants at Sunrise:
Migrants, many from Haiti, wade between Texas and Mexico across the Rio Grande, Wednesday, Sept. 22, 2021, in Del Rio, Texas. The U.S. is flying Haitians camped in a Texas border town back to their homeland and blocking others from crossing the border from Mexico.
Award of Excellence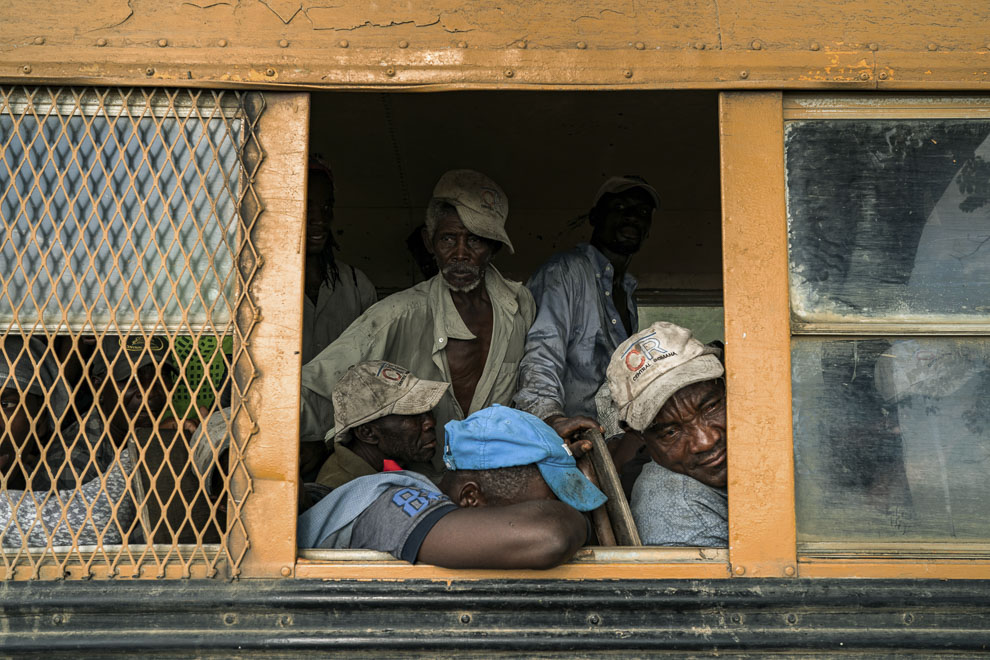 Salwan Georges, The Washington Post
Untitles:
Sugarcane workers pack a school bus that is being towed by a tractor after a workday at one of Central Romana's fields to their company housing known as bateyes, dank shacks that often lack electricity and running water, in El Seibo, Dominican Republic, Friday, May 28, 2021. At Central Romana, Dominican Republic's largest sugar producer, laborers worked 12-hour days and lived with their families in company housing without electricity and potable water. Human rights advocates had for many years publicly protested the mistreatment of sugar workers. at Central Romana. The company for years has been accused of exploiting laborers and forcibly evicting families from their homes. During a late-night raid in 2016, the company tore down makeshift shacks built by 60 impoverished families living without electricity or running water alongside Central Romana's fields.
Award of Excellence
MEMORIAL FOR A SHOOTING:
Family members mourn during a vigil for James Johnson and Dominque Williams who were shot and killed in Takoma Park MD last week by an off-duty Pentagon Force Protection officer during an emotional ceremony in Washington, DC on Thursday April 15, 2021.