A picture that shows participation in a game or sports event. Peak-action pictures during competitive events should be included in this category.
First Place
Carolyn Kaster, Associated Press
Equestrian Blossom Jump:
Britain's Ben Maher, riding Explosion W, clears a jump during the equestrian jumping individual final at Equestrian Park in Tokyo at the 2020 Summer Olympics, Wednesday, Aug. 4, 2021, in Tokyo, Japan.
Second Place
Patrick Smith, Getty Images
Jorge Jumps:
TOKYO, JAPAN - AUGUST 04: Jorge Urena of Team Spain competes in the Men's Decathlon High Jump on day twelve of the Tokyo 2020 Olympic Games at Olympic Stadium on August 04, 2021 in Tokyo, Japan.
Third Place
Julio Cortez, Associated Press
Diving Grab:
Baltimore Orioles center fielder Cedric Mullins makes a diving catch on a ball hit by New York Mets' Jonathan Villar during the first inning of a baseball game, Wednesday, June 9, 2021, in Baltimore.
Award of Excellence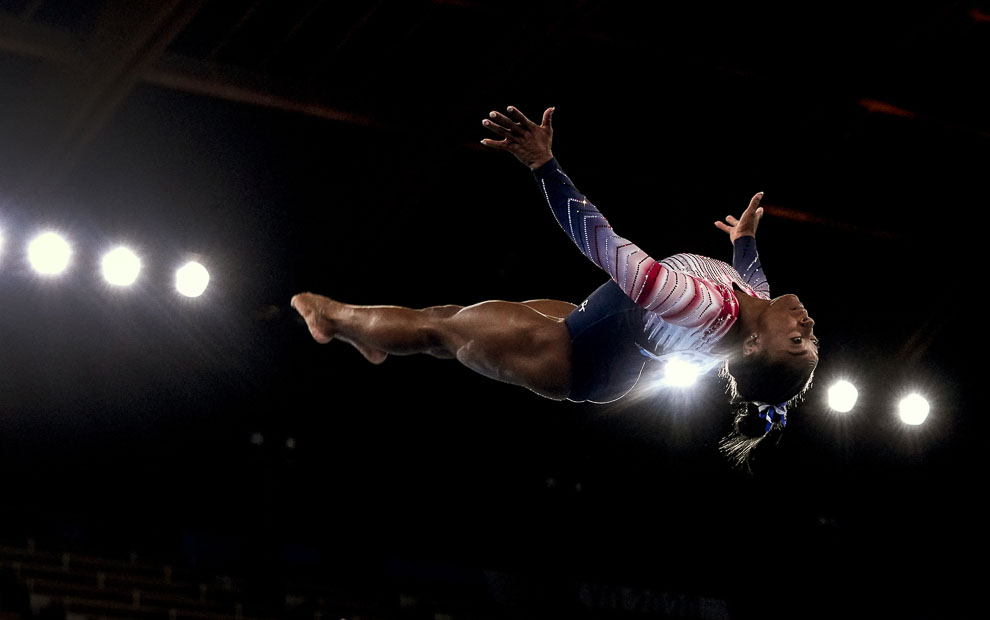 Toni L. Sandys, The Washington Post
Simone Biles:
Gymnast Simone Biles of Team United States flips through the air as performs her dismount during the Tokyo 2020 Olympic Games Women's Gymnastics Balance Beam Final at Ariake Gymnastics Center on Tuesday, August 3, 2021.
Award of Excellence
John McDonnell, The Washington Post
Upended:
Maryland wide receiver Rakim Jarrett, right, is upended by Howard defensive back Rodney Dennard (9) during the University of Maryland Terrapins defeat of the Howard University Bisons in College Park, MD, September 11, 2021.
Award of Excellence
John McDonnell, The Washington Post
Short:
Washington Football Team quarterback Taylor Heinicke, center, is a foot shy of crossing the goal line for touchdown on this fourth down and one yard to go for a score in the third quarter during the Green Bay Packers defeat of the Washington Football Team 24-10 at Lambeau Field in Green Bay WI, October 24, 2021.
Award of Excellence
Tasos Katopodis, Freelance for Getty Images
2020 Tokyo Paralympics - Day 4:
CHIBA, JAPAN - AUGUST 28: Mara Beatrice of Team Italy competes against Ludmila Vasileva of Russian Paralympics Committee in women's foil individual Category B wheelchair fencing on day 4 of the Tokyo 2020 Paralympic Games at Makuhari Event Hall on August 28, 2021 in Chiba, Japan.