The entry period for the 2017 Eyes of History Multimedia Contest has closed. Please join us on judging weekend.
2017 Multimedia Contest Judges
Coburn Dukehart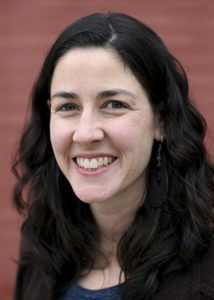 Coburn Dukehart is the Digital and Multimedia Director for the Wisconsin Center for Investigative Journalism. She joined the Center in 2016 after 16 years of distinguished work at national news organizations. Her role at the Center includes directing its visual strategy, creating visual and audio content, managing digital assets and training student and professional journalists. Dukehart previously was a senior photo editor at National Geographic, where she managed and wrote for the Proof blog, which showcases international documentary projects. From 2007 to 2013 she was the picture and multimedia editor at NPR— the first person in that role — where she oversaw a wide range of projects, including directing the overall visual strategy for NPR, training reporters in photography, covering daily and long-term assignments, coordinating with the legal and financial departments, implementing a newsroom-wide digital asset management system, and advising on the content management system used by hundreds of NPR producers. She has also worked as a photo editor at USATODAY.com and washingtonpost.com, interned in the White House photo department, and worked for a London-based international publishing group. Dukehart has received numerous multimedia awards from the National Press Photographers Association, Pictures of the Year International and the White House News Photographers Association. Her multimedia work also has been honored with a Webby, a Gracie, a Murrow and duPont awards, and she was nominated for a national Emmy. She has coached at a variety of multimedia workshops, including the Syracuse Fall Workshop, the National Press Photographers Association Multimedia Immersion and the Eddie Adams Workshop. Dukehart received a bachelor's degree in journalism and English from the University of Wisconsin-Madison. She holds a master's degree in photojournalism from the University of Missouri-Columbia. She lives in Madison, Wis., with her husband, Brad Horn, and two daughters.
Alexandra Garcia
Alexandra Garcia is a senior story producer at The New York Times, where she directs, oversees and produces interactive projects and video stories. She works on projects ranging from interactives like Times's Olympics "Fine Line" series and The Outlaw Oceanto original video in 10 Years After Katrina to the innovative shadow puppetry film The Forger. Previously, she worked at The Washington Post for almost a decade. Garcia has been awarded two national Edward R. Murrow Awards, top honors in the National Press Photographers Association's Best of Photojournalism and Pictures of the Year International contests, and eleven regional Emmy awards, along with four national Emmy nominations. In 2012, she was a fellow at the Nieman Foundation for Journalism at Harvard. Garcia was born in Bogotá, Colombia and was raised in Rockville, Maryland. She is obsessed with the Internet and with trying to justify her time spent at art school by experimenting with how visual stories can break out of a traditional mold to take advantage of the unique storytelling possibilities in digital and interactive journalism.
Sung Park
Sung Park is an instructor of photojournalism/multimedia at the School of Journalism and Communication at the University of Oregon in Eugene, OR. He is also the co-director of the Multimedia Journalism Masters Program at the University of Oregon Portland. In 2013-14 he was a Fulbright Scholar to Ghana where he taught multimedia storytelling to masters students at the University of Ghana and held various seminars and workshops for local media organizations in Accra. Sung previously taught photojournalism and multimedia at The Newhouse School of Public Communications and at the The University of Texas. Prior to teaching Sung worked as an award winning staff photographer, picture editor and multimedia producer at the Austin American-Statesman. He has over 20 years of experience in newspaper, magazine and online visual journalism. In addition to teaching he is still an active freelance photojournalist and multimedia producer for various print and online publications as well as for NGOs and non-profits. Sung has been a coach and instructor in various workshops such as the NPPA Multimedia Immersion and is co-director of Story-Arc Cinematic Journalism Workshop. Sung holds a B.S. in Photo-illustration from The Newhouse School and an M.F.A. from the Dept. of Transmedia at Syracuse University.