2023 Results
Judging for the 2023 Eyes of History® Student contest has concluded. Congratulations to all winners!
Vincent Alban, from the Rochester Institute of Technology was named the 2023 Student Still Photographer of the Year.
Isabella Martin, from Michigan State University was named the 2023 Student Video Photographer of the Year.
For complete contest results, please click here.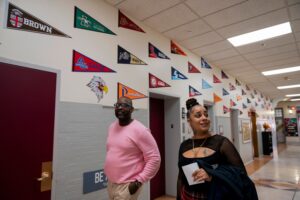 2024 Contest Information
Please watch this space for more information on the upcoming 2024 Eyes of History® contests!
Contest Archive
As we process hard copy archives of past contest winners, this archive will be updated. Recent versions of contest rules are provided below for reference, and older versions, if available, may be obtained by contacting us.
Photography Categories
Top Honors
view gallery
Student Still Photographer of the Year -
Ethan Swope, Santa Monica College
Video Categories
Top Honors
view gallery
Student Video Photographer of the Year -
Lucas Grant Pruitt, University of North Carolina at Chapel Hill
Award of Excellence -
Morgan Pravato, University of Maryland, College Park
Sports
view gallery
First Place -
Bryanna Helen Idzior, Michigan State University
Second Place -
Erin Burnett, University of Maryland, College Park
Third Place -
Regan Holgate, Michigan State University
General News or Feature: Narration
view gallery
First Place -
Joe Freihofer, Michigan State University
Second Place Place -
Regan Holgate, Michigan State University
Third Place -
Isabella Marie Martin, Michigan State University
Honorable Mention -
Ian Gilmour, Michigan State University
General News or Feature: Natural Sound
view gallery
First Place -
Kimi Fleming, University of Maryland, College Park
Second Place -
Valeria Isabel Gonzalez Montero, University of Maryland, College Park
Third Place -
Dominick Acierno, University of Maryland, College Park
Long Form Feature
view gallery
First Place -
Lucas Grant Pruitt, University of North Carolina at Chapel Hill
Second Place -
Hope Davison, University of North Carolina at Chapel Hill
Third Place -
Raj Paul Ghusar, San Francisco State University
Photography Categories
Top Honors
view gallery
Student Still Photographer of the Year -
Jacob Moscovitch, University of Missouri
Award of Excellence -
Shafkat Anowar, University of Hawaii
Video Categories
Top Honors
view gallery
Student Video Photographer of the Year -
Nash Consing, UNC-Chapel Hill
Sports
view gallery
First Place -
Cole Strong, Syracuse University
Second Place -
Joe Freihofer, Michigan State
General News or Feature: Narration
view gallery
First Place -
Sam Britten, Michigan State University
Second Place Place -
Joe Freihofer, Michigan State University
Third Place -
Ian Gilmour, Michigan State University
General News or Feature: Natural Sound
view gallery
First Place -
Madeline Powell, Syracuse University
Long Form
view gallery
First Place -
Sadie Brown, University of North Texas
Second Place -
Hadley Green and Madison Hoffmann, UNC-Chapel Hill
Creativity During COVID-19
view gallery
First Place -
Nash Consing, UNC-Chapel Hill
Second Place -
Joe Freihofer, Michigan State University
Third Place -
Molly Castle Work, University of Maryland
Rules