A picture of a "found" situation with strong human interest, or a fresh view of an everyday scene.

First Place
Halloween:
A woman dressed as Glinda, the Good Witch of the North from the Movie 'The Wizard of Oz,' stands in a plastic bubble during a Halloween event at the White House. U.S. President Barack Obama and first lady Michelle Obama hosted local children and children of military families to trick-or-treat and celebrate Halloween.
Second Place
Bonnie Jo Mount, The Washinton Post
Zoo:
Cheyenne, a Siberian tiger, romps in an old swimming pool at Tri-State Zoological Park in Cumberland, MD. Cheyenne is one of five tigers living in the enclosure. Siberian tigers are critically endangered with fewer than 450 living in the wild. Zoo owner Bob Candy said that the space is not aesthetically attractive -- and that he wished he could find a way to make it more appealing -- but that the tigers are well cared for.
Third Place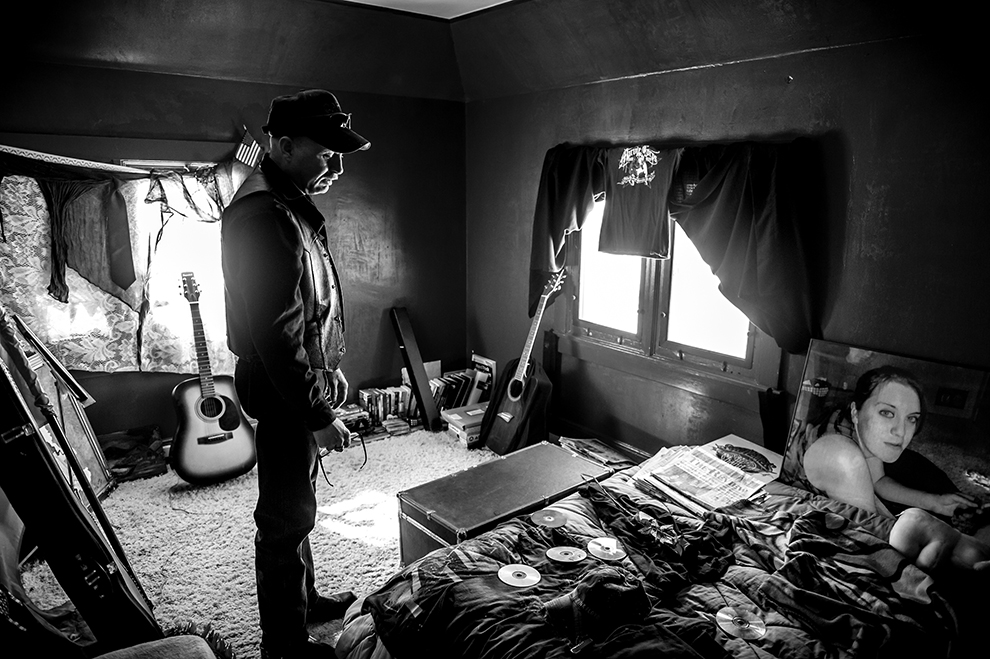 Mary F. Calvert, Zuma Press
Fighting Carrie's Battle:
Gary Noling stands in his daughter Carrie's bedroom on the anniversary of her suicide in Alliance, Ohio. Carrie Goodwin suffered severe retaliation after reporting her rape to her US Marine commanders. Five days after she was went home with a bad conduct discharge, she drank herself to death. 'it destroyed my family. When Carrie died i lost all three of my kids and my grandkids. I lost two thirds of me. Two thirds of me is in that box of ashes.'
Award of Excellence
Oyster Harvest:
MiFarm Oysters Inc. employee Caitlin Conner stands on an aquaculture boat while looking for a submerged oyster cage during a harvest in Fleets Bay off the Chesapeake Bay near White Stone, Virginia, U.S., on Wednesday, Oct. 29, 2014. In July, Governor Terry McAuliffe stated 'Virginia has become the oyster capital of the East Coast' with the oyster harvest in Virginia increasing from 23,000 bushels in 2001 to over 500,000 bushels in 2013.
Award of Excellence
Michael Williamson, The Washington Post
Wing Man:
The streets of Norton, Va. came alive with a theatrical re-enactment of "The Passion" in the parking lot of a bank. A sign advertising a law office was covered in sheets that read, "Jerusalem 33 AD." At the climax of the play, a man playing Jesus shroud in white emerged from his tomb, walked among spectators sitting in green folding chairs and doled out high-fives. Here, Trevor Hayes, age 11, waited for his cue as an angel who guards the tomb of Jesus.
Award of Excellence
Patrick Smith, Getty Images
Up For Air:
Members of the United States Naval Academy freshman class do sit-ups at the wet and sandy station during the annual Sea Trials training exercise at the U.S. Naval Academy on May 13, 2014 in Annapolis, Maryland.