A picture documenting the inauguration of President Donald Trump. Photo must be directly related to the inauguration but does not need to include the new president. Photos taken after midnight on Jan. 20 are eligible if they are a continuation of the inauguration festivities.
First Place
Jabin Botsford, The Washington Post
BARRON:
WASHINGTON, DC - JANUARY 20: President Trump waves as his son Barron Trump looks out during the inaugural parade as it makes its way down Pennsylvania Avenue on Inauguration day in Washington, DC on Friday, Jan. 20, 2017.
Second Place
Al Drago, The New York Times
The First Lunch:
President Donald Trump is offered a toast at the Inaugural Luncheon in Statuary Hall on Inauguration day at the U.S. Capitol building on Friday, Jan. 20, 2017 in Washington. From left, Senate Minority Leader Chuck Schumer (D-N.Y.), Abigail Perlman Blunt, first lady Melania Trump, President Trump, and Vice President Mike Pence.
Third Place
Huge:
President Donald Trump and First Lady Melania Trump acknowledge the crowd as they dance during the Freedom Inaugural Ball, in Washington, D.C. on January 20, 2017.
Award of Excellence
Brendan Smialowski, Agence France-Presse
Untitled:
Surrounded by Secret Service US President Donald Trump and US first lady Melania Trump walk down Pennsylvania Avenue during parade to honor his Inauguration as the 45th US President on Capitol Hill January 20, 2017 in Washington, DC.
Award of Excellence
Win McNamee, Getty Images
Calm Before the Storm:
U.S. President-elect Donald Trump pauses backstage moments before being sworn in as the 45th U.S. President January 20, 2017 in Washington, DC.
Award of Excellence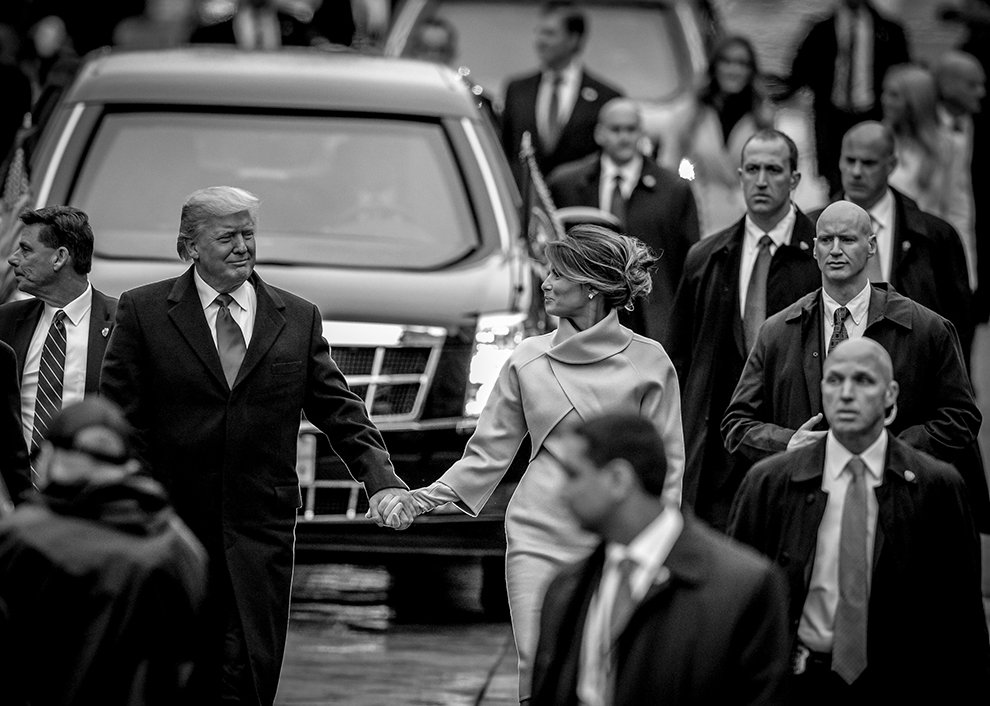 Mary F. Calvert, Freelance
Quick Glance:
During the Inauguration Day parade, President Donald Trump shares a moment with First Lady Melania Trump.
Award of Excellence
Carol Guzy, Freelance for McClatchy/ZUMA
DEPLORABALL:
Protesters and supporters clash during the 'Deploraball' on the eve of inauguration day of President Donald Trump in Washington DC.