A picture of a "found" situation with strong human interest, or a fresh view of an everyday scene.
First Place
Win McNamee, Getty Images
Eclipse on the Beach:
Brothers Chris and Gabe Fabiano watch the first solar eclipse to sweep across the United States in over 99 years on the beach August 21, 2017 on Hilton Head Island, South Carolina. Millions of people are expected to watch as the eclipse cuts a path of totality 70 miles wide across the United States from Oregon to South Carolina.
Second Place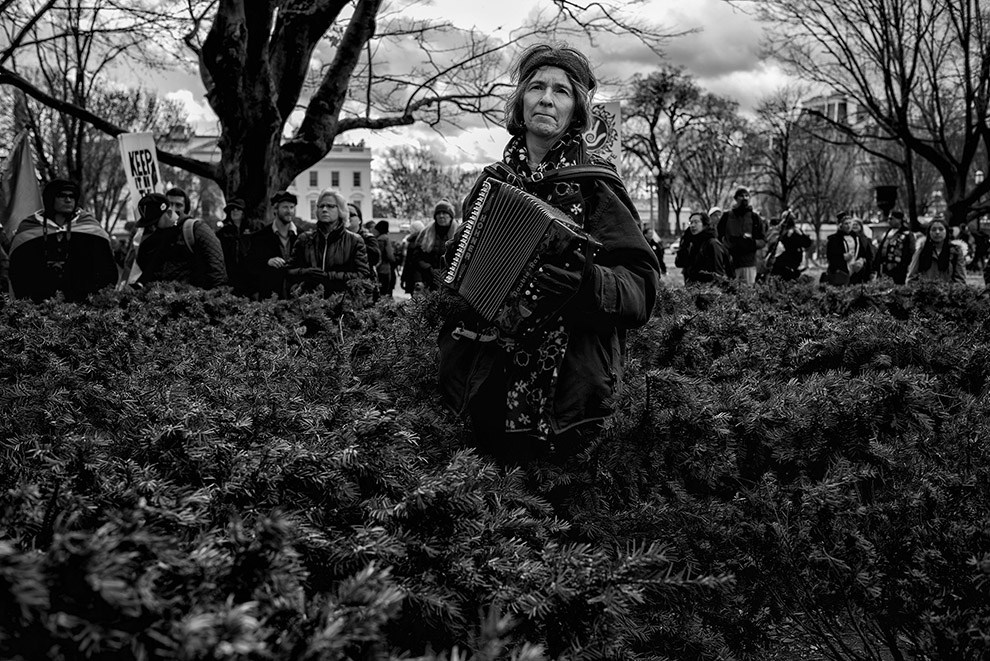 In the Hedges:
A woman plays the accordion in Lafayette Park during the Nation Nations March on DC demonstration, on March 10, 2017.
Third Place
Sarah L. Voisin, The Washington Post
Tango:
On Sunday evenings May through September in Washington, DC, Freedom Plaza is home to Milonga a la Libertad. Tango dancers are pictured on August 20, 2017.
Award of Excellence
Jim Watson , Agence France-Presse
Horse Play:
Assateague wild ponies rear up on each other during the annual Chincoteague Island Pony Swim in Chincoteague Island, Virginia, on July 26, 2017.
Award of Excellence
Katherine Frey, The Washington Post
House Call:
Claire Bennett, 8, watches as Dr. Adam Lowry examines her for general physical that she needs for her summer camp application June 05, 2017 in Great Falls, VA. Her mother, Barbara Bennett works for HEAL, an app that allows patients to make appointments for doctors to make house calls every day from 8 am to 8 pm. She made an appointment on the app for the first time to demonstrate how it works and also, the deadline was looming for Claire's application.
Award of Excellence
Matt McClain, The Washington Post
Elvis Lives:
Elvis Tribute Artist, Bruce Hanson of Rice Lake, WI, performs in the backyard of Bud and Mary Stonebraker on Friday August 11, 2017 in Memphis, TN. The couple have lived directly behind Elvis Presley's Graceland for 22 years. Bud refers to he and his wife as more Elvis fanatics than just fans. Their house is decked out with Elvis memorabilia. They hosted free concerts in their backyard during Elvis Week.