A compelling portrait that captures an aspect of the subject's character.
First Place
T.J. Kirkpatrick, Freelance for The New York Post
Still Singing:
Opera singer Charity Sunshine Tillemann-Dick is seen at the John F. Kennedy Center for the Performing Arts in Washington, D.C., on September 26, 2017. Tillemann-Dick received a double lung transplant in 2009, and then again in 2012 to address complications from rejection.
Second Place
Gabriella Demczuk, Freelance for The New York Times
Orrin Hatch :
Sen. Orrin Hatch (R-Utah) speaks with his aids before the Senate Judiciary committee hearing to consider nomination of Rod Rosenstein to be deputy AG and Rachel L. Brand to be Associate Attorney General at the Dirksen Senate office building on Capitol Hill in Washington, D.C. on March 7, 2017.
Third Place
Jahi Chikwendiu, The Washington Post
Enslaved But Never a Slave:
GREENSBORO, AL - MAY 25: Afriye We-kandodis, who dressed her self as a person enslaved, stirs after spending the night in a slave cabin behind Magnolia Grove manor as part of Joseph McGill's Slave Dwelling Project on Thursday, May 25, 2017, in Greensboro, AL. We-kandodis, from Selma, Alabama, is founder of By the River Center for Humanity, an organization that takes participants through re-enactments of slavery.
Award of Excellence
André Chung, Freelance for The Washington Post
Guerilla Projectionist:
WASHINGTON, DC -- AUGUST 09: Artist Robin Bell has been staging public projections around the country to protest the Trump Administration. He has projected messages and pictures denouncing the Trump Administration on buildings as diverse as the Trump International Hotel and the State Department
Award of Excellence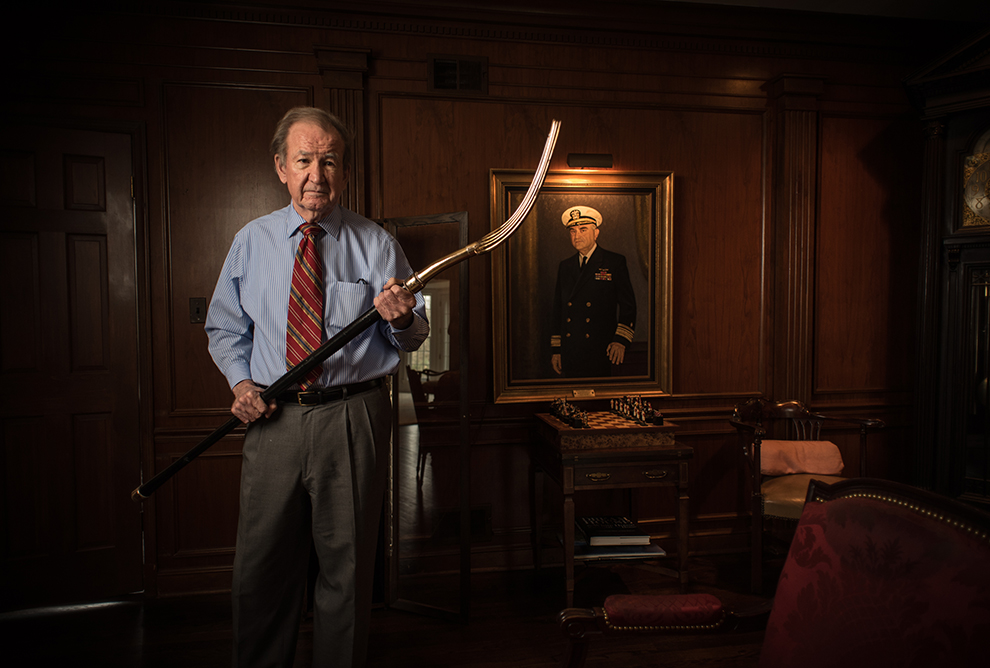 André Chung, Freelance for Politico
Pitchfork Pat:
MCLEAN, VA -- 3/21/17 -- Buchanan holds the pitchfork presented to him after winning the 1996 New Hampshire primary. The pitchfork was a symbol that he used repeatedly on the campaign trail. Respected conservative commentator Pat Buchanan reflects on his career at his home in McLean. Many political observers see his failed presidential campaigns as the template for President Trumps successful bid.
Award of Excellence
John Boal, Freelance for The Boston Globe
Markelle Fultz, #1 Pick:
Markelle Fultz at the North Laurel Community Center ahead of the NBA Draft, in Laurel, MD, on Monday, June 12, 2017. Fultz, 19, a 6'6' point guard, played one year at the University of Washington and was expected to be the first pick in the NBA draft by the Boston Celtics. He has a quote from Dr. Martin Luther King tattooed on his body that says, 'The ultimate measure of a Man is not where he stands in the moment of comfort and convenience, but where he stands at times of challenge and controversy.' The Celtics traded their pick to the Philadelphia 76ers, who drafted Fultz. Fultz has spent most of his rookie year sidelined by a shoulder injury.
Award of Excellence
Jahi Chikwendiu, The Washington Post
Haysoos: The Freest Man in America:
WASHINGTON, DC - JULY 16: Elijah Alexander, also known as Nature Boy, chills in Meridian Hill Park / Malcolm X Park on a pleasant Sunday afternoon on July 16, 2017, in Washington, DC. Alexander, 72, has been known as Nature Boy since he stopped wearing shoes in 1981, then shirts in 1984. "I'm the freest man in America," he proudly announced.
Award of Excellence
Scott Applewhite, The Associated Press
Glare:
Senate Minority Leader Chuck Schumer, D-N.Y., reacts to questions from reporters about President Donald Trump reportedly sharing classified information with two Russian diplomats during a meeting in the Oval Office, at the Capitol in Washington, on May 16, 2017.